Nashville Fashion Week is underway! The exciting annual event has become the hot-spot for fashionistas this week. Day 1 started with a bang – with designers earning standing ovations for their wonderful displays of creativity and technique. Let's get started:
Days 1-3 are taking place at the historic Marathon Music Works building. This rustic factory setting gave an great backdrop to the awesome fashions shown on the runway. Guest filed into the venue waiting to see favorites from last year, T. Rains and, Nashville's own, Valentine Valentine.
There were some cool additions this year that weren't there last year – like BANDS! Guests got to jam out with three bands, Five Knives, Humming House, and Shinobi Ninja, during intermissions. The music really made this fashion week feel special. I mean, Nashville IS the music city, so why not intertwine different genres of music within the shows.
Valentine Valentine was the first on the runway and the designer did not disappoint. Amanda Valentine, originally from Nebraska, gave the audience a holographic yet mod display of midi-length circle skirts, quilted and apocalyptic outerwear, and a funky mix of the two. I was dazzled by mixture of fabrics and designs. 
In all, the collection was fun. There were definitely some pieces I'd style for a photo shoot and some pieces I'd buy for my closet (a certain quilted circle skirt comes to mind).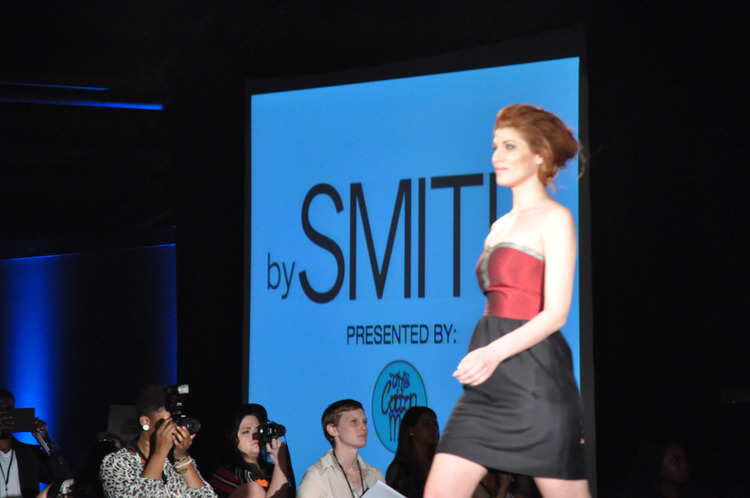 Photo by Andy Evinger
by Smith was the next designer on the runway. The collection was SO Ready-to-Wear. I overheard audience member say, "I'd like to buy THAT!". The looks: cocktail dresses, tap pants, shorts, and lovely, fun, prints were very lady like.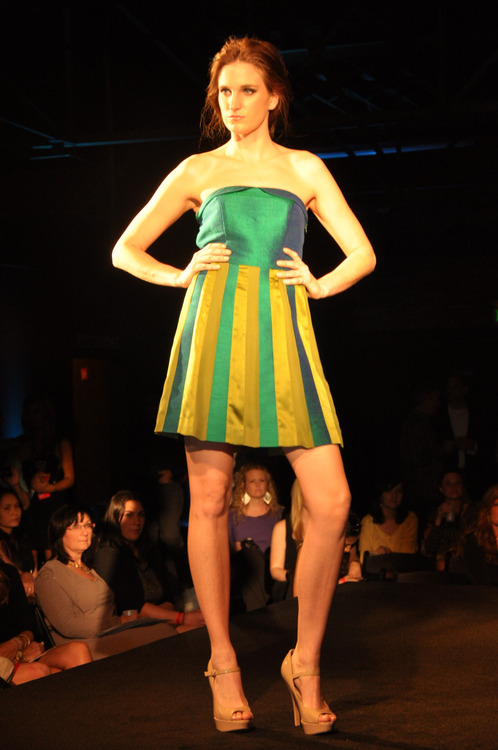 Photo: Andy Evinger for Lexus Nashville Fashion Week.
Smith Sinrod, the designer, started two years ago. Her designs feature Thai silk and are sold in a variety of boutiques nationwide.
Fashion Week favorite, T.Rains, closed out the night. Words cannot begin to describe the beauty in Traver Rains' designs. Last year, he was a brilliant surprise showing during the middle of the week. Last night, he was the showstopper that got the audience whopping, cheering, and standing up to clap. Take a look at his designs for 2012 which featured: crochet, lace, and models with wild wigs!
So you can see why T. Rains earned a standing ovation. This year he went to the next level and everyone was pleased.
Stay tuned for DAY 2 coverage coming tonight! Enjoy.