So, let's get to Day 2 of Nashville Fashion Week 2012. I have to say, the staff and volunteers really worked hard to make each night original and innovative. Talking to guests, many worried that the shows would get redundant seeing as the first three days would be in the same venue, Marathon Music Works.
The first day
the runway design was all-black, edgy, and mysterious. On day two, the runway was swathed in white, wide open, and enchanting. Click the
link
below to read more!
The show started with designer Leona presented by Hemline boutique. The Leona collection was so ladylike and wearable. It's one of those lines you can see yourself buying an item for a friend and know she would like it!
Next up was SJOBECK presented by Jamie. The SJOBECK line wasn't my favorite line but there were a few key pieces that caught my eye. Check it out: 
These grey leather leggings gave me life! They had zippers  on the ankles!
This hi/low tank-top would be great this summer, especially paired with a maxi-skirt.
Loved these high-waisted pants and cropped shirt. Very fly for  spring/summer.
Let's keep the party going with one of my favorite lines from the night, Eva Franco! Seriously, I wanted to purchase everything from this line and put it in my closet. It was my style to a tee! Check it out –
Ohmygosh, so fun and flirty! Get it in my closet now!
This dress with lace overlay is so fly! Plus, the color contrast is unexpected.
This was the closing garment. This sheer lace dress was a showstopper.
Now, on to the real show stopper, Zang Toi. On twitter, I said Zang Toi's presentation made me wish winter would come back. Toi's line has been around since 1989. He was one of the first Asian designers touted by Anna Wintour. Looking at his Fall 2012 collection I can see why he's one of her favorites: Floor length trench coats, gorgeous gowns, and beautiful furs:
Sidenote, this model is like 15 years old and she killed it all week! 
Loved the striking drress with soft ruffles and a cool transformation.
I couldd surely see this dress on a red carpet starlet!
I loved this printed dress with dramatic ribbon detail. Quite different.
Then, the pattern was flipped and sequins was added! Nice!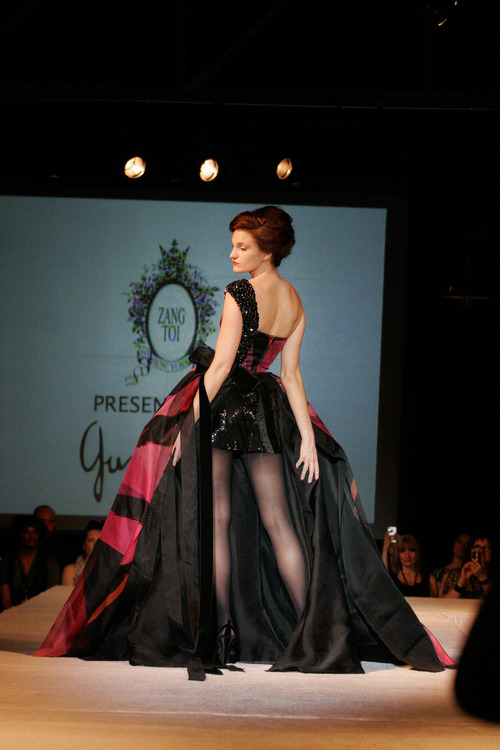 Surprise, surprise! 
So that was Day 2 of Nashville Fashion Week 2012. Stay tuned to Day 3 coming tomorrow. Day 3 was my FAVORITE day and I can't wait to show you the fab-ness!