The third day of Nashville Fashion Week 2012 was nothing any patron expected. Yesterday, I remarked on how many thought we'd get bored having the shows at the same venue for three days. But, boy, were we in for a surprise on Day three!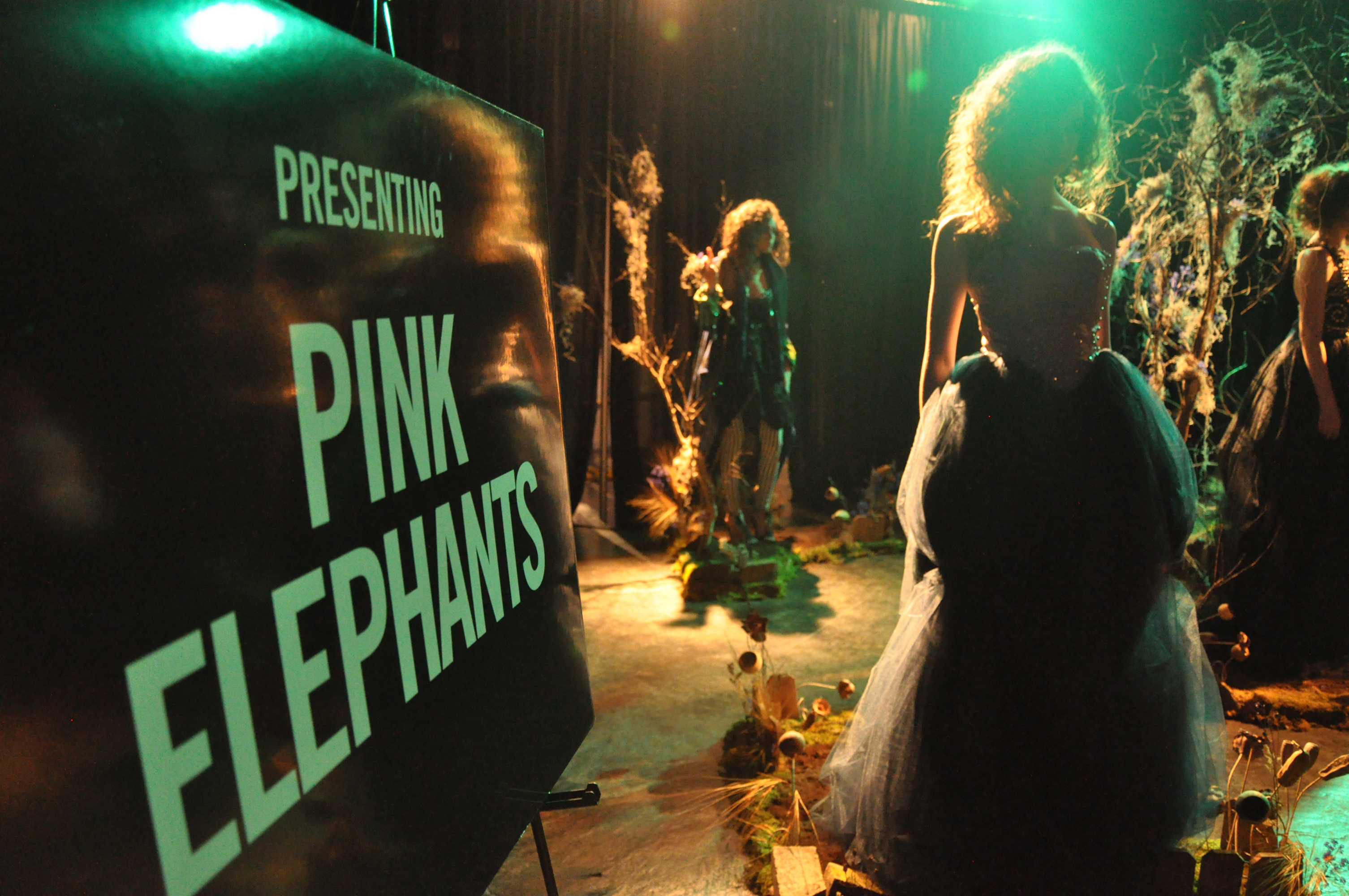 Beauty in the Wilderness at the Tuft Installation
Walking into the venue was like walking into the pages of your favorite fashion magazine. The night was dedicated to Emerging Designers from Tennessee. The emerging designer installation on Thursday, March 22 at Marathon Music Works showcased seven local designers, including the inaugural recipient of the Nashville Fashion Forward Fund.
The installation included the following collections: Tuft, Black by Maria Silver, The Trunk, Pink Elephants Designs, Brittany Blair, amy.b. and fund recipient, Julianna Bass.
The best thing about this presentation is that guests were able to get up close and personal with the garments. The models continuously posed, never breaking character giving each scene a surreal feeling.
Brittany Blair gave us a fashion dinner gone glamorously wrong – with all the right stuff. The whole set was filled with ivory rose petals. It was a vision to behold.
Pink Elephants' haunting wilderness exhibit was one of my favorites. I didn't get a close-up, but the jacket in the front was pink and studded and all types of awesome.
These ice princesses gave great fierce-ness as the posed on acrylic blocks resembling ice. The line, Amy B, was great with flowing gowns and structured jackets.
"Rock star lifestyle, might don't make it . ." This scene by Black by Maria Silver, showcased some very edgy clothes with intricate details. Corsets, high-waist pants, and draping skirts gave these 'ne'er do well' rock-stars a fashionably hip appeal.
Each night, Lexus, showcased a new car. For their installation they used hip male models. Throughout the night the models posed with the car and interacted with the guests.
Another fave, the TUFT installation. Think of 1960's mod rocker girls. The clothes were super fun with lots od girly details: bows, glitter, ribbon, and sheer satins.
The 2011 Community Fund recipient, Juliana Bass' collection hung in the cocktail space. The all red room gave the garments a mysterious glow as they hung from the ceiling like fashion chandeliers.
The Trunk of Nashville featured this masked dance party. Every so often the models changed potions to showcase the garments.
So, you can see, this was a favorite of guests this year. Each set was a conversation piece, with guests debating over their favorite presentations and favorite pieces.
Missed any of my reviews: Click the links to check out Day 1 and Day 2